Do you feel exhausted after your workout session? This means that your body wasn't prepared enough to enter the workout session. Therefore, you need a pre-workout supplement that can prepare your body and avoid getting exhausted. But the problem arises to choose the best supplement from the bunch of them available in the market. This 4 Gauge Pre Workout Review is going to help you find out why this amazing supplement is so much popular in the market.
4 Gauge Pre Workout Review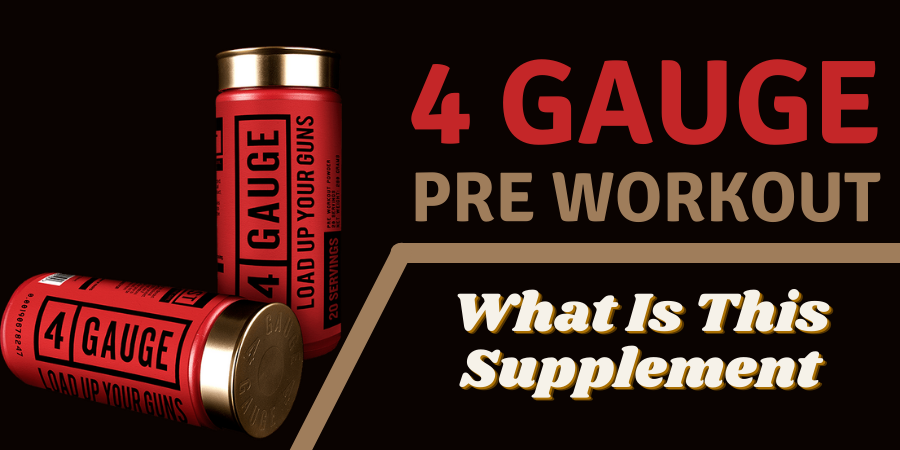 What is the 4 Gauge Pre Workout Supplement?
4 Gauge is a powder-based pre-workout supplement that is manufactured and marketed by Roar Ambition. The supplement is an easy and convenient way to boost your endurance and performance in your workout session.
4 Gauge is a totally unique supplement that is formulated with 100% natural ingredients. As per the official claims, the supplement helps in boosting your energy, endurance, making you harder, bigger, and improve your mental focus.
The most interesting thing about this supplement is its marketing and presentation. 4 Gauge is available in a shotgun shell-shaped pack that gives a clear message that it is going to boost your power and performance.
Benefits of 4 Gauge Supplements
The supplement helps in boosting the body energy level
It helps in promoting endurance and strength
The supplement is formulated with 100% natural ingredients
The formulation is backed by clinical researches and studies
It is safe to consume
Supplies fewer calories therefore you burn more
The supplement doesn't use any artificial flavoring
It tastes decent and uses plant-based sweeteners
The supplement is affordable and cheaper compared to other pre-workout supplements
4 Gauge Pre Workout Ingredients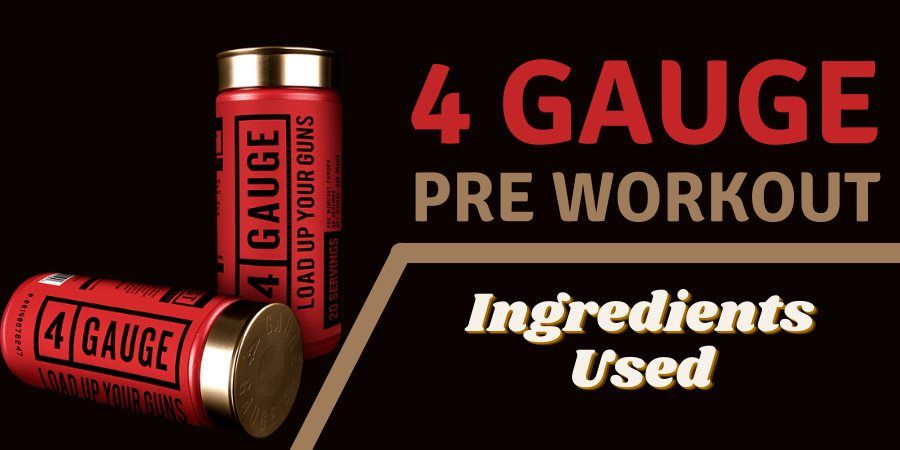 L-Citrulline DL-Malate: This ingredient is an extraction from watermelon and has been very frequently used in most pre-workout supplements. The supplement uses almost 6 grams of this ingredient in the formulation.
Red Beetroot Extract: Another common ingredient found in pre-workout supplements, this beetroot extract is used in the formulation due to its natural property of boosting metabolism and burning body fat.
Creatine Monohydrate: Creatine is a very popular supplement among workout lovers. It is the most important supplement that helps in building your muscle mass, strength, and endurance.
Acetyl-L-Carnitine: Acetyl-L-Carnitine is actually an amino acid that is also a very common ingredient found in most popular pre-workout supplements. This ingredient helps in boosting energy and prevents you from getting exhausted.
Caffeine: Caffeine is a popular ingredient in energy drinks and fat burners. This ingredient helps in boosting energy levels for better performance and promoting the metabolic process for burning fat.
L-Theanine: It is another amino acid compound that is extracted from tea leaves. Mostly this ingredient is used in combination with caffeine for an effective fat-burning process and the same it experienced with this in 4 Gauge.
Rhodiola Rosea: In the 4 Gauge Pre Workout supplement, Rhodiola Rosea is used in the form of a powder extracted from the Rhodiola Rosea plant's root. It helps in promoting mental focus, controlling fat deposition, and fights fatigue.
Coconut Water Powder: Coconut water is considered a natural energy booster drink and best for preventing dehydration. It helps in maintaining the nutritional level and water level in the body.
Potassium: Potassium is an essential nutrient that is very important to maintain healthy mental functioning and promotes muscle recovery from damage.
Calcium: Calcium is known for its property of promoting strong bones. Used in 4 Gauge, about 30 mg of calcium is used in the formulation to provide stronger bones and muscles.
Pros & Cons
The ingredients used in the formulation are completely herbal and natural
The supplement delivers fewer calories for more fat burning
It is available in powder form that is convenient and easy to take
It doesn't use any proprietary blend
The supplement taste very delicious with the flavor of fruit blast
Cons –
The supplement is only available for sale online
It is quite costly compared to other pre-workout powder supplements
4 Gauge Pre Workout Reviews by Users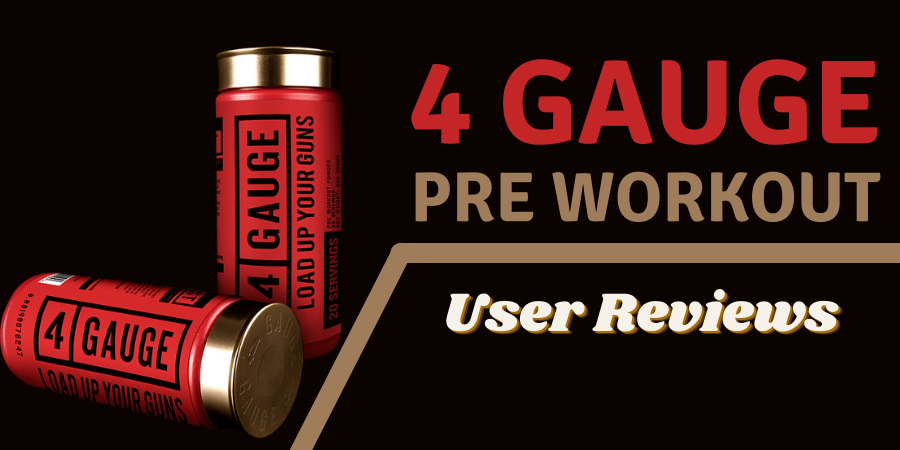 $ Gauge is a quite popular and highly marketed pre-workout supplement that has received a lot of reviews on various platforms. The official website also showcases some reviews and all of them are positives and therefore you cannot judge a supplement with official website reviews.
I tried to find out user reviews for 4 Gauge on third-party platforms like Amazon and Facebook groups. I found that majority of people have praised this supplement for positive results. Almost 65% of users rated 4 Gauge with 4 & 5 stars.
4 Gauge Pre Workout Side Effects
Personally, I haven't tried this pre-workout supplement yet and therefore I cannot share any personal encounter with possible side effects. Although, the company claims that the supplement is formulated with 100% natural ingredients, therefore, there are least chances of experiencing any type of side effects.
But while exploring user feedbacks, I noticed few complaints about minor side effects like jitteriness, headaches, and stomach upset. Also, you may experience some side effects if you are allergic to the use of caffeine.
You May Also Like:
Semenax vs Volume Pills vs ProSolution Pills
Libido Max vs Extenze vs Viagra
TestoGen vs The Alternatives
VigRx Plus VS The Alternatives
Extenze VS The Alternatives
Common FAQs on 4 Gauge Pre Workout Review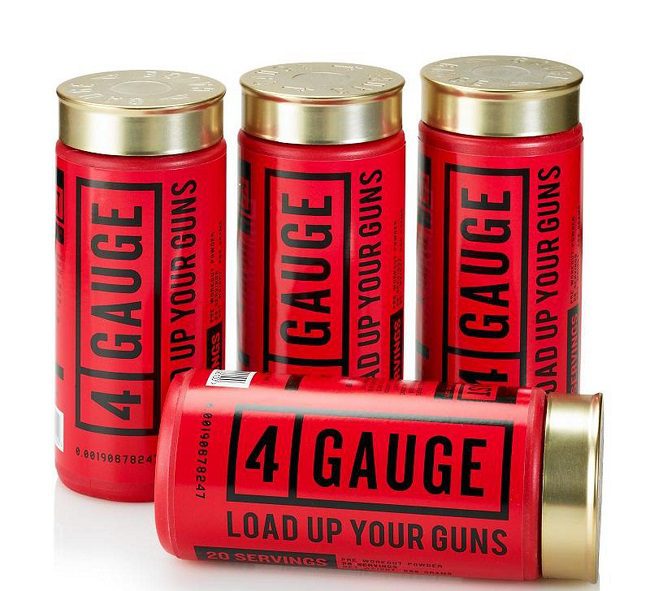 Q – What is the recommended dosage of this pre-workout supplement?
The recommended dosage by the company is very clear. It is suggested to mix 2 scoops of this powder into 10-12 oz water and drink it for about half an hour before going for workouts. You can extend this dosage to 3-4 scoop after few weeks, once your body gets compiled with the ingredients.
Q – How does this supplement taste?
4 Gauge uses Fruit Blast flavor that in my opinion is going to be quite delicious and tasty. Although, some users hate this taste.
Q – Is 4 Gauge Pre Workout good to use?
Yes, the supplement can be a really good support in your workout regime. With some quality ingredients and effective formulation, the supplement will help you provide an extra boost in energy and endurance.
Q – Can you take this supplement before cardio?
Yes, of course, 4 Gauge can be used before cardio. Using this supplement will give you extra focus and motivation for better performance and results.
Q – Is 4 Gauge pre-workout safe to use?
Yes, the supplement is claimed to be 100% safe from any major side effects as it is formulated with all-natural ingredients.
Q – Is 4 Gauge pre-workout vegan friendly?
Yes, the supplement is completely safe for vegans and does not include any artificial ingredients and dairy products.
Q – Is 4 Gauge pre-workout available for sale on Amazon and GNC?
Yes, this pre-workout supplement is available for sale on Amazon but it is not sold through GNC.
Q – Is 4 Gauge Pre-workout sold in Canada, Australia, and the UK?
Yes, the supplement is shipped worldwide and that too with free shipping in selected countries.
Where To Buy 4 Gauge Pre Workout? Price & Deals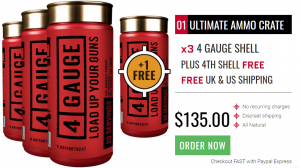 4 Gauge pre-workout supplement is not sold offline and over the counter. You can only buy it from the official website and other online stores like Amazon and eBay. Though it is available on Amazon, it is highly recommended to order 4 Gauge pre-workout from the official website only as it ensures that you are getting the legit supplement.
Like the packaging, the offers and packs are also attractive for 4 Gauge.
One Round (1 Month Supply) – $45.00
Two Rounds (2 Month Supply) – $90.00
Ultimate Ammo Carte (Buy 3 Get 1 Free) – $135.00
My Final Verdict on 4 Gauge Pre Workout Review
The market is flooded with lots of pre-workout supplements but is very hard to find out a perfect supplement that has the cleanest ingredients and really effective.
I have not actually tested this supplement but after reviewing it on my radar, I could say that it has come up as one of the best pre-workout supplements on the market.
What I love most about this supplement is the reviews and feedback from the real users who reported that 4 Gauge given them skin tearing muscle pumps and boosted up energy, stamina, and endurance for better performance.
Although it is all your choice, as per my opinion, 4 Gauge is the perfect deal for the pre-workout supplements as it has the cleanest ingredient and most powerful formulation.
You May Also Like:
Best Testosterone Supplements For Muscle
Benefits of Using Testosterone Pills
Which is the best Testosterone Booster for Men Over 50
Testogen Reviews
TestoPrime Reviews
Prime Male Review
Testofuel Reviews 2023